The middle-class home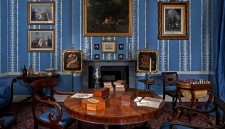 Compared to the many stories recorded about the British aristocracy or the Dickensian working class in London, there is still very little known about the capital's middle classes and their domestic lives.
Since the Industrial and Agricultural Revolutions, this section of society has gone on to command greater wealth, power and influence both in politics and in day-to-day life to become England's influential chattering class.
To gain a better picture of how life has changed for them, we need only look into their homes – many of which are still standing today. Since the 1600s, the function and presentation of housing which accommodated the middle classes has undergone radical change in response to what they value, and in terms of what their wages can actually afford.
In Hoxton, East London, The Geffrye Museum of the Home has been exploring this story in fine detail since 1930 by exhibiting period rooms that have housed middle class families for almost four hundred years – here is a glimpse into that story:
1600s
Long before the housing crisis that is currently engulfing London, homes in the 17th century faced a very different problem: recovering from The Great Fire of London. After tearing through many of the capital's wood-built houses, regulation on new builds became much stricter. The average middle class Londoner would find themselves moving into sturdier brick houses by the end of the century, using the ground floor as a place of work and the first floor as a space for family and servants, receiving meals and entertaining guests.
While these houses were large in size – usually three or four stories high – their interiors lacked many luxuries that were available on the market, such as Middle Eastern carpets, until the following century when these items became more affordable. Although, by this point, clocks and mirrors had begun to invade their homes which highlighted the growing importance that middle class citizens placed on timekeeping and personal appearances.
1700s
In the eighteenth century, the East India Company's exotic imports became more affordable to this section of society as they furnished their rooms with a wider array of foreign influences: carpets, textiles, wallpaper and furniture were available from the furthest reaches of the world. Mahogany furniture, for example, was still a relatively new timber at this time and in high demand. Classical design also became popular towards the end of the 1700s, with urns, classical figures and garlands appearing in many fashion-conscious, middle class homes. The withdrawing room of upper class households was adopted by lower income abodes who were closing the income gap; the word was clipped to be called a 'drawing room' and used in the same way, as a separate room for retiring into after dinner.
1800s
'How to furnish in style' emerged as a popular topic in London publications after the phrase 'interior decoration' was coined by Dutch furniture designer Thomas Hope in 1807. Nineteenth century home design embraced the Regency style, Aesthetic movement and reopening of trade routes between Japan and the West in 1850. Home life separated itself from the workplace, with houses moving from the city's centre to its outskirts where townhouses could focus on accommodating family. In the Victorian era, homes stood primarily for comfort, and rooms such as the parlour were idealised as refuges of peace and warmth.
1900s
The domestic lifestyles of middle class families evolved even more during the 20th century. A suburban house from the Edwardian era would often embody the Arts and Crafts movement, and open up its space to focus on sunshine and fresh air. Collecting antiques from previous centuries was now a popular hobby for those with artistic tastes.
By the 1930s, flats offered a convenient, stylish alternative for childless, city professionals. These new homes were minimalistic in decoration and either neo-Georgian or modernist in architectural style. Most middle class households still relied on a daily cleaner, but no longer had the space for live-in servants.
The television invaded homes in the 60s' and stole a room's focus away from the fireplace. Household work and childcare was now generally undertaken by the adults who no longer maintained servants. A lack of space encouraged furniture to be used for storage and display, often forming either a room-divider or wall unit.
2000s
At the end of the 20th century, warehouse and commercial building conversions were springing up throughout inner-city London, typically housing the city's population of yuppies and professional couples without children. Far-removed from previous eras' notions of comfort and indulgence, the defining feature of these apartments was 'space', consisting of an industrial aesthetic which a Victorian middle class family would probably steer well clear of.
The Geoffrye Museum of the Home, 136 Kingsland Road, London, E2 8EA
Tel: 020 7739 9893