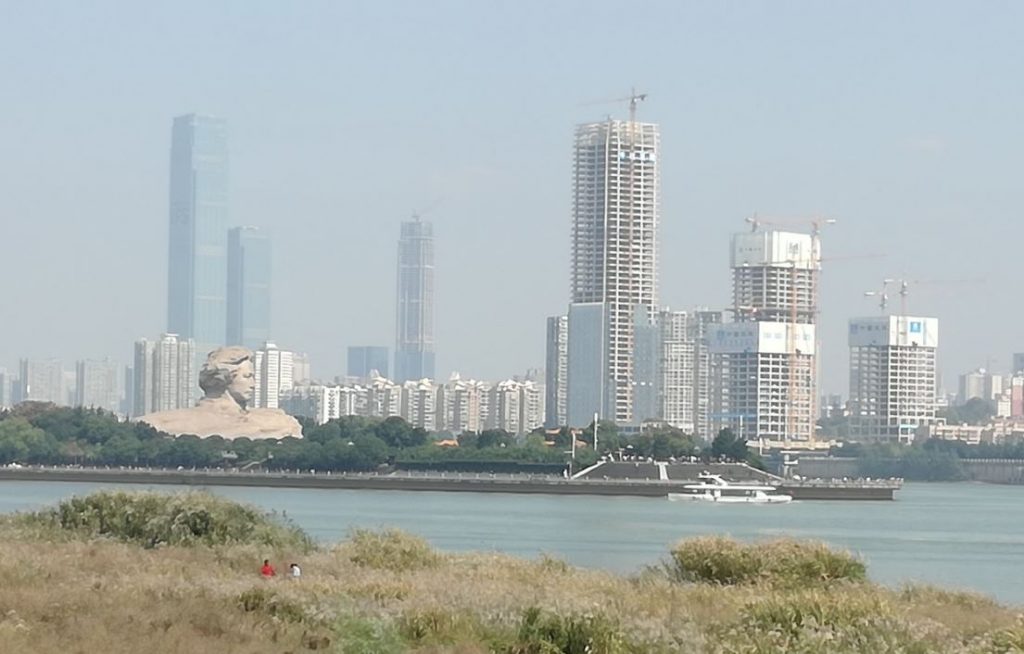 Changsha, the capital city of Hunan province is home to either 3.7 million or 7.2 million people (depending on which statistics you believe) but is certainly one of the most rapidly developing cities in China. It has grown, physically, by 25 percent in the last ten years and massively expanded in terms of physical infrastructure as well as economic growth. Again, taking official statistics as gospel, it bucked the trend of the global recession, and in 2011 the city's GDP was twice the national average at 14 percent. Last year it joined the "trillion-yuan club", creating wealth equal to approximately 25 percent of London's GDP. But it's important to have some healthy scepticism about China's development targets. It's often advisable to digest official claims with a pinch of salt.
For example, Changsha is home to the world's tallest building, Sky City, a building that hit the headlines in 2013 when the contractors broke ground on one of the country's most ambitious projects to date: an experimental, 208-storey prefabricated tower constructed in just 90 days. Except, of course, it didn't happen. It didn't get any further than the foundations. It was cancelled that same year, just as people began to admit that it was structurally impossible. But these kind of snake-oil projects are quite common in China with many people wanting to believe in the power of China to get things – anything – done.
Take China's north-eastern Liaoning province, which recently admitted to having falsified their economic statistics for years. Or Qinhuangdao's straddling bus that was finally declared a hoax. And Arup's Dongtan Eco-city that failed to materialise, Even thought China's construction data is hugely impressive, it can't help itself from over-hyping. Just recently, Chinese local governments have scrapped 1700 fake public-private projects, worth £200 billion.
Why am I telling you this? Well, in October, I travelled to Changsha with the specific intent of visiting a ground-breaking community library project. This was a very-well regarded project designed by Shanghai-based architects, Neri and Hu and put forward for several design awards and commendations. The promotional literature and images were very enticing. And, of course, it turned out not to exist.
Situated on the south-western edge of Changsha city, alongside the Xiangjiang river is The Fragrant Golden Fields Estate that seemed to derive its name from its location near the ecologically-protected riverside walk; a 6-km long environmental reclamation project with views over the monumental carved head of Mao Zedong on Juzizhou Island. (Here Mao is captured as a young Romantic, looking not unlike Stieler's portrait of Beethoven). Between the lush waterfront vegetation and the residential estate is the 8-lane Xiaoxiang highway and a 5 -metre high flood defence wall which means that the Fragrant Golden Fields is completely cut off with the riverside.
The housing estate's Chinese name, Ti Xiang ("fragrant") is actually a transliteration of Tiziano (the painter, Titian). It is a made-up word so that the developer, Vanke can sell a status-enhancing vision of European Renaissance-style living with a series of bog-standard tower blocks. Titian was 'ere.
Three, 24-storey cruciform blocks of residential apartments are set within a generous 17,000m2 site the density of which is dictated by floor-area ratios set by local planning policies. In many instances such as this, planning guidelines insist on considerable areas given over to green space which is used for landscaping, children's play areas, nurseries, pathways, gardens and, of course, the ubiquitous private residential entry gatehouse.
But Chinese people's response to private security guards is similar to Captain Mainwaring's attitude to the ARP warden in Dad's Army. They are usually rather dismissive, often simply ignoring their presence and paying no attention to security checks and physical barriers. At baggage screening checks in Shanghai's metro stations, it is not unusual to see people refusing to deposit their bags on the conveyor belt and walking straight through. The barricade at the Titian Estate is a little more onerous with a security counter and turnstiles. And since I had no idea where I was going, I was obliged to check-in.
At the gate, I mustered a rather feeble Chinese introduction that I'd "come to see the new library". Helpfully, he pointed out that if I wanted a library I needed to go back into the city centre and however much I explained – in pidgin Chinese, sign language or stick drawings – there was clearly no library in the Titian Estate. The deadlock was broken by a jolly security guard who called me in to wander around to find it for myself.
The library had been built in 2013 as a conversion of the ground floor lobby area of one of the blocks to create communal and more intimate reading rooms. The ground floors are a maze of disconnected shear walls that reflect the structural needs above with casual disregard for the spatial effect on the ground-floor plan. The resulting messiness provided a challenge for the architects. Non-loadbearing walls were replaced with a series of boxes – fractals – that grew into full height shelving units that created a spatial grid. Discrete yet interconnected spaces resulted, comprising a bar/café, event space, meeting room and a variety of reading lounges.
Architects/interior designers, Lyndon Neri and Rosanna Hu say that "the Jinyu library design takes inspiration from the traditional Chinese hand scroll, a painting format that allows for the depiction of a continuous journey and the spatial narrative reveals itself in fragments."
Or a more practical level, they wanted to transform the typically uninspiring lobbies of social housing while also challenging the luxurious hotel-style lobbies of high-end condominiums. In this instance, they designed a social gathering space for all residents which spills out of the building into the landscape. It is a library designed for the residents, mostly families spanning three generations. The shelving grid flows effortlessly from inside to outside, as the architect says, "blurring the boundary between furniture, architecture and landscape."
The architects "imagined that as residents journeyed through the space daily, they would find themselves slowing down to pause and pick up a book and lose themselves in a story or poem. We screen printed quotes from Du Fu, a famed Chinese poet from the Tang dynasty, which can be found integrated in the millwork and exterior landscape walls." Indeed, from a distance, the sculptural form of the shelving looks like welded Corten steel, but close up is revealed as lightweight timber throughout, with solid pine internally and Douglas-fir in the open air.
Construction took 3 months but because of such a tight schedule, and because of the lack of suitably skilled suppliers and contractors in Changsha, almost all of the finish materials were shipped in from Shanghai, including the concrete finish for the walls, the custom metal work in the shelving and all the wood used for the shelving structure.
If you think that's a little wasteful, then you may be even more peeved to learn that the project no longer exists. When I visited, the ground floor was almost derelict, stripped of value, wiring exposed, timber chipped, furnishings removed, finishes crumbling: a shell of a building. A few children played near a table tennis table. In one corner, three old Chinese women played mah-jong oblivious to my presence or the mess all around them. A few books remained on shelving too high to reach and clear away.
The full story is hard to come by because no-one is willing to talk. But there are a number of reasons why this project does not exist. Firstly, many of the apartments have been bought as a financial investment and therefore remain empty, which means that there are few residents to amble and read poetry; thus a library is an irrelevance.
Secondly the developer benefits greatly from promotional architectural photographs demonstrating the cultural depth of a scheme – this is the Titian estate, after all – so a cynical developer might have been tempted to try it on. To construct an award-winning library that a developer had no intention of keeping, is not what I am suggesting happened here, you understand.
Thirdly, many apartments are bought sight unseen as mere shells. They are only fitted-out when – if – someone moves in. In this block, presumably such a limited number of real residents doesn't require such a grand library that might prove costly to maintain. Admittedly, it's hard to believe that residents brought pressure to bear in such an under-utilised building but across China, elderly occupants who are left behind in high-rise blocks while their offspring go out to work demonstrate that they prefer the sociability of ping-pong rather than the isolation of a good book.
In the end, this farrago is either the result of a disastrously misconceived brief, or ahead of its time. In January 2018, five years after the Titian Estate library was built (and, we assume, very shortly after it was demolished), the National People's Congress Standing Committee decreed that public libraries were fundamentally important in providing resources for learning and education, providing "gateways to knowledge and culture". The draft law states that more libraries should be built wherever possible. Children's reading areas must also have instructors to guide and educate the young, as well as digital and online resources for others. The developer is probably kicking himself.