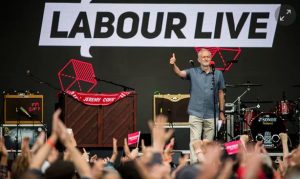 Strolling into the Labour Live event on Saturday, I had promised myself I wouldn't be bullied into paying more than the discounted £10 tickets (down from £35 a few months ago).
The man at the ticket office wasn't willing to argue. 'If you live locally', he said, 'you get in for nothing'. Was this the kind of socialist pricing experiment we've been promised under Corbyn? I was looking forward to exploring more radical thinking inside.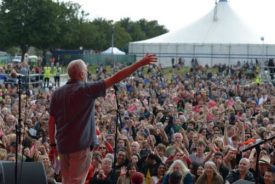 With my orange wristband in place, I joined 13 others queuing up for a festival that promised to open up politics to a wider audience 'so that we can build a society that works for the many, not the few'. Labour Live was being held at White Hart Lane Recreation Ground, Wood Green in the Momentum heartland of Haringey, north London, so you might have expected the organisers to have told the many thousands of ordinary working-class people in this poor residential area about a free concert on their doorstep. Sadly not.
To get through the gates, one had to run the gauntlet of three pro-EU activists, led by a Honey G lookalike singing 'It's all about EU' (to the tune of Meghan Trainor's 'All About That Bass') while handing out 'Bollocks to Brexit' stickers. Once inside, aside from Jeremy Corbyn merchandise ('Oh, Jeremy Corbyn' scarf, £35), it was the Remainer activists who were most in evidence. A small group representing Our Future, Our Choice (a youth group that seeks to 'democratically stop Brexit') unveiled a huge 'Stop Backing Brexit' banner during Corbyn's speech late in the day. Reports of them being hustled out by Labour heavies have been denied, as organisers pointed out that the banner was blocking the view of the stage. Its removal was democracy in action.
A key figure in the development of this festival was Guardian journalist Owen Jones. He spent the day interviewing, motivating, orchestrating. He opened the proceedings to a smallish crowd, asserting that 'Hope and optimism is contagious'. Even though many commentators rightly condemn Jones as an irritant, to his credit, the spirit of the event was kept alive somewhat by his enthusiasm and energy.
His reference to 'Hope' was a feature of the day on the ubiquitous t-shirts and posters (Corbyn's face replacing Obama's in the iconic 2008 'Hope' election poster). Shadow chancellor John McDonnell boasted: 'It will be magical what we can do for society.' Eddie Izzard insisted that 'we need to articulate a vision'. David Lammy, quoting the wrong president, yelled: 'We're taking our country back!'
Early reports of a humiliating turnout were overstated. The crowd assembled across the day in reasonable numbers which should ensurethat the organisers' blushes are spared. But it was clearly nowhere near the 20,000 expected, and the fabricated photographs that started to emerge on social media, professing to represent the day, were unnecessary and reminiscent of Trump's defensive comments about the size of the crowds at his inauguration. (One image, for instance, on an official festival Facebook page, is actually of Corbyn's appearance at Glastonbury; another is an aerial photo of the Leicester City trophy parade in Victoria Park in May 2016. See photo below). In the end, there was a trickle at 1pm, a thousand or so at 2.30pm, maybe 3,000+ at 5pm, and more to hear Corbyn's speech at 6pm.
The headline act, Clean Bandit, signed up just two days earlier, undoubtedly pulled in a big crowd at the end. Earlier, the main stage had hosted Jermain Jackman (winner of The Voice 2014), Declan McKenna and the 'original Sex Pistol', Glen Matlock. Jackman has spoken of how, aged 11, he was 'discovered' by Jeremy Corbyn at a school talent contest. He admits to wanting to work for the Labour leader and become an MP.
By late afternoon, some of the debates started to fill up. Festival novices queued up for a £7 sandwich and £5 pint of beer, while many more queued up for a free ice cream handed out by Unite general secretary Len McCluskey. More freebies. In for a penny, in for 35,000 pounds, as they say (that's the amount of money that the Unite union allegedly spent on tickets to give free to members). McCluskey's ice-cream van chimed out The Red Flag. (photo below: hundred & thousands at the event)
The weather was fine, there was plenty of space to sit, the music wasn't bad and it was only 10 minutes for me to walk home. Children played Edwardian games under the watchful gaze of Nipperbout (a company that believes babies should give their consent before having nappies changed). The disabled were shunted up behind the toilets to get a better view of the main stage, and the army of reporters from mainstream media outlets ran out of people to interview.
What was missing was any substantive political argument. Admittedly, the Literary Tent promised some reasonably interesting topics. A debate on 'Robots and the future of work' was very interesting and garnered an audience of around 350 to hear Aaron Bastani plugging his new book. Another session saw Gary Younge discussing how to bring the Labour Party 'back to its roots'. Possibly a reference to multi-millionaire sauce purveyor, Levi Roots who had performed on the music stage earlier.
Meanwhile, the Solidarity Tent debates were flat, predictable and generally poorly attended. The 'People's Question Time' took reasonable questions but produced tired answers, while the 'Organising to Win' panelists were so demoralisingly boring that the 40 people in the tent seemed uncertain as to whether losing might not be such a bad thing. When one speaker riffed with the audience, 'Let's hear your thoughts. Who has been to a boring political meeting?', it seemed like a postmodern mind-fuck.
Clearly, Brexit was the elephant in the room. The lack of debate on the topic gave the lie to the idea that this was a real public political event 'for the many'. The favoured fall-back populist position was to profess support for firemen, the NHS, solidarity with Deliveroo workers, or praise for TGI Friday strikers.
Undoubtedly, the organisers will feel vindicated – or just relieved – but they have to be honest: this was not pioneering and radicalising outreach work because they ran away from too many awkward questions. Next week, Alexandra Palace, one mile further west, hosts the StrEATlife free festival with many thousands of attendees, live music and expensive burgers. Without the pretension of political mobilisation, it promises to be an equally pleasant day out.
In the end, Labour Live was too cautious to follow through on its radical claims. When he was asked by Jones what the day was really about, Jeremy Corbyn replied: 'Music, art poetry, dreaming, fun, happiness: a great day out.' In other words: bread and circuses.
Austin Williams is the director of the Future Cities Project. Follow him on Twitter: Future_Cities