Albert, the king maker
by Austin Williams
The infiltration of Stonewall into public organisations has become common knowledge. But who knew that an equally shadowy organisation is influencing the editorial direction of media organisations on environmental issues and issuing guidelines on how to report the news?
Forty years ago, on collecting his BAFTA for "Chariots of Fire," screenwriter Colin Welland announced that "the British are coming." Such Churchillian swagger signalled the revival of the British media industry as a force to be reckoned with.
Of course, he intended that the UK would be a world-beating force in film and quality tv output. The British Academy of Film and Television Awards (BAFTA), however, had other ideas and took it to mean that Britain would strive for "excellence" and "award-winning" production in a different category altogether.. Nowadays we must all recite the mantra that it is not just the chariot that is on fire, but our house is too. Something must be done.
Cue Vangelis soundtrack.
One organisation above others has taken a lead role in determining the direction of travel and has become the screen industry's go-to organisation for environmental sustainability: Albert Sustainable Productions. It also goes by the name of BAFTA Albert.
You might have seen the logo – a black footprint – at the end of many TV programmes, from BBC's Newsnight to Sky Sports. It is a rapidly expanding company that few people other than industry insiders have heard of. But it sets the internal processes, the quality, and the acceptability of media environmental performance. This is an incursion that is becoming increasingly influential in the way that media institutions programme content, conduct their working practices, and set their goals. It is also influencing how we see and understand the world through the prism of mainstream media's output.
Increasingly, Albert is a major player within strategic media discourse. It says of itself: "We are leading a charge against climate change" and almost everyone in the broadcast world has had to buy into it. One of BAFTA's Albert Ambassadors says that she has made a "commitment to spreading knowledge about our planet's welfare through sustainable production within TV and Film." To all intents and purposes, Albert is the Stonewall of Sustainability.
Back in 2010, Albert was set up to engage with the BBC's pioneering requirement for carbon-accounting. Its name – Albert – was proposed in opposition to another carbon savings software package called Victoria. That battle royale was won by Albert, and it quickly became the preferred tool to demonstrate compliance with sustainable procedures and cutting costs post-financial crisis. At Albert's launch, Sally Debonnaire, BBC Vision's Controller of Production Operations said that TV producers who want to "reduce their company's energy bills no longer have to worry if they don't know where to start." A pragmatic desire to cut energy bills was the innocent genesis of what quickly grew into an organisational monster.
Armed with spreadsheets, targets, training programmes, "online tools," internal sanctimony and external hectoring, Albert has grown into a media machine that believes (and encourages the media itself to believe) that it its duty to change the public's attitude and behaviour toward the environment. One of its 2-hour editorial training packages is described as "an opportunity for all those in the TV industry to explore how to use authenticity and creativity to prevent the end of the f#<$'ing world."
The turning point in Albert's fortunes came at COP26, the United Nations Climate Change Conference in Glasgow in 2021. The conference was sponsored by a number of its Albert Consortium members, like Sky News. It hosted a series of COP "debates" that set out the terms of acceptable broadcasting. The mainstream media were galvanised to sign up to a commitment to making environmentalism central to their activities and Albert was on hand with a readymade oath of allegiance.
The Climate Content Pledge states that all signatory broadcasters will:
• reach more of our audiences with content that helps everyone understand and navigate the path to net zero, and which inspires them to make greener choices.
• develop processes that help us to consider climate themes when we are commissioning, developing, and producing content.
• ensure that our efforts are informed by the science.
• recognise the importance of fair and balanced representations of visions for a sustainable future.
• work together
By buying into Albert's mission, the broadcast media world (including Sky, BBC, Channel 4, ITV, RTE, Channel 5, Discovery, S4C, etc) has agreed to combine forces to ensure that their output, from soap operas to news broadcasts, from sport to children's cartoons, from comedy to serious drama must invest in putting the planet into programme content. Albert spells it out for them: "Collectively, our industry reaches millions of people every single day. That represents an unprecedented opportunity to shift mindsets and make positive environmental behaviours mainstream. It's a chance to shape society's response to climate change."
Rather than repudiating this contradictory approach to the traditional principles of objective reporting Dana Strong, Group Chief Executive, Sky doubled down. She said: "We believe broadcasters have a clear role and responsibility to encourage lifestyle changes that address the climate crisis."
In the run-up to the COP26 conference, the producers of a variety of household favourite soaps like Casualty, Coronation Street, Emmerdale, Holby City and Hollyoaks worked together on a joint storyline to highlight climate change, setting down a marker for what was, and is, to come. This insidious makeover of programming's intent is not only uncommented on but welcomed by many in media circles. The FT, The Guardian, The Mirror, The Scotsman, The Times, Sun, Independent, and all major broadcast media outlets are happily hooked into the message, so their role is one of relaying the "correct message." There is not going to be any "alternative" perspective, certainly not any criticism, allowed.
Subliminal environmental messaging can also be found in other output. Several commentators recently pointed out that the TV weather forecast – especially during July's weather in the UK – displayed a graphic sense of a looming climate apocalypse, rather than simply presenting the atypically hot weather. Sean Batty, STV's weather presenter says that "it's finding that fine line where we don't frighten people." Cue thunder clouds and red warning triangles.
The new imperative is for the correct message to filter through to an unsuspecting public. As a result, Sky, together with the Behavioural Insights Team (yes, the same organisation that Laura Dodsworth exposed in her best-selling book "A State of Fear: How The UK Government Weaponised Fear During The Covid-19 Pandemic") claim that "80 per cent of people supported the idea that broadcasters should use their influence to 'nudge' people in the right direction, whether through documentaries, advertising or environmental issues covered in the news." Posed in this way, people working in the media get to see themselves as saintly figures heroically responding to the unspoken demands of its viewers and the planet.
Step forward Albert as the unelected guardian of public morals, willing to "share relevant industry and audience insights and develop relevant metrics (and) improve how we measure our impact." Albert becomes the benchmarker, the trainer, the monitor, the advisor, the steward, and the certifier. Production houses with the need to accentuate their green credentials and little understanding of where to start, need to pay homage to Albert's omnipotence by signing up to their certification scheme.
Thus begins a never-ending commission to track, trace, monitor and advise on how to do better. As Albert says of itself: "This is the only possible way our industry can move forward."
All shall have prizes from the Albert toolbox. It hands out certificates like eco-confetti, or an opioid pusher. Higher ratings and better certification create a desire amongst industry leaders for an even bigger fix. In essence, Albert is a dominatrix substitute for media executives. They take the humiliation of ceding authority, submit to demands, all for the ecstasy of an Environmental Social, and Governance rating. Of course, media channel executives don't see it as giving up authority, they think that they are exercising their own autonomy, authority, and social responsibility, but they have signed up to a consortium that insists that they "normalise sustainable behaviour through (their) editorial content."
For example, Channel 4 has issued a directive to all independents pitching for commissions to say that they will look favourably on "provocative and irreverent content that will energise and empower audiences to live sustainably." As a result, mainstream media channels and independent production teams will be investing heavily in administrative procedures (rather than creative output) to climb yet further up the ladder of certified practitioners.
The dopamine of entry level certification is based on simple issues masquerading as meaningful environmental gains. For example, one documentary by George Monbiot was praised for using "50% recycled footage." That's one-star. Loose Women is 3-star while Birds of a Feather is 2-star.
The World War 1 movie "1917" became the first large scale UK film to gain 3-star Albert certification. It earned its reward for, inter alia, digging trenches sensitively to "ensure that as little damage was done to the land and biodiversity as possible" as well as the hair and makeup department minimising landfill waste "by using bamboo toothbrushes and biodegradable wipes."
At another level, script interventions are highly recommended by production companies in order to nudge the public into living in an environmentally correct way. For example, Albert lauds the award-winning series "I Will Destroy You" for its plot line which, it says, deals with "how the climate movement engages with black people and black communities and highlight(s) some of the hypocrisies that can lie at the heart of the climate movement when it's being pushed by privileged middle class white people." On Love Island, Albert praises the "tactful placement (of) personalised, reusable bottles… so much so" it boasts, "that over 260,000 bottles were purchased."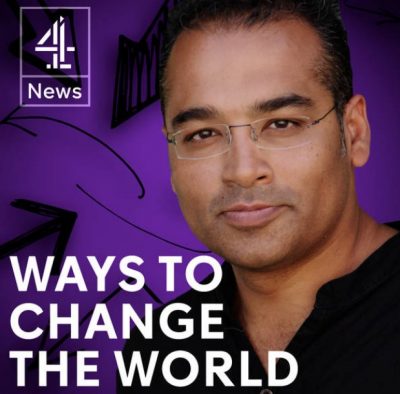 If this seems a little trivial, you have a point. But while we are distracted over there, Channel 4's Krishnan Guru-Murthy, one of the UK's most high-profile newsmen, has been announced as Albert's "chair of news content." He has been taken on to "explore how the climate change conversation is represented on screen."
Politicised news reporting is quite a novel approach in Britain but here we have one of Channel 4's leading news presenters heavily involved in political reporting surely calls into question the channel's ability to handle environmental stories with due impartiality. Of course, media channels have long given up on the shibboleth of impartiality when it comes to environmentalism. Albert congratulated Guru-Murthy and recommended its "news training module… to find the climate angle in news stories." Ian Katz, Channel 4 Chief Content Officer says that "Climate change is, quite literally, the burning issue of our age" and, it seems, impartiality on such a crucial subject is now deemed old-fashioned, and even dangerous. When there is an "emergency," after all, niceties such as truth are the first casualty.
But why is there no outrage at the rise of social policy messaging by the MSM? This is, after all, blatant political broadcasting. Hardly surprising maybe, that when the political class seems to have absented itself from the stage that the erstwhile media messenger feels empowered to speak its mind. The fact that a consultant is directing the media moguls makes it seem more duplicitous. Undoubtedly, media bigwigs would carry this environmental bias anyway, it just seems more convenient for them to use an outside agent to make them feel less culpable.
We can all sneer along with the Financial Times when it describes China's state broadcaster, CCTV's "soft power push (as) part of a geopolitical battle for the hearts and minds of the world." But in Britain, environmentalism is a one-party system, and when broadcasters and unelected agencies start making up social policy, denying any counter-arguments, and overtly setting out to manipulate our perception on certain topics, is it really any different?
.